A viral video shows a mob surrounding and threatening a white Atlanta police officer before eventually bullying him into a patrol car — and it all allegedly took place during the aftermath of a shooting Friday near the burned-out Wendy's where Rayshard Brooks was fatally shot by a police officer on June 12.
Image source: Twitter video screenshot
What are the details?

Cellphone video shows people circling the officer before a male member of the mob appears to walk up and shove him from behind while shouting, "P***y!" — and ironically walking away.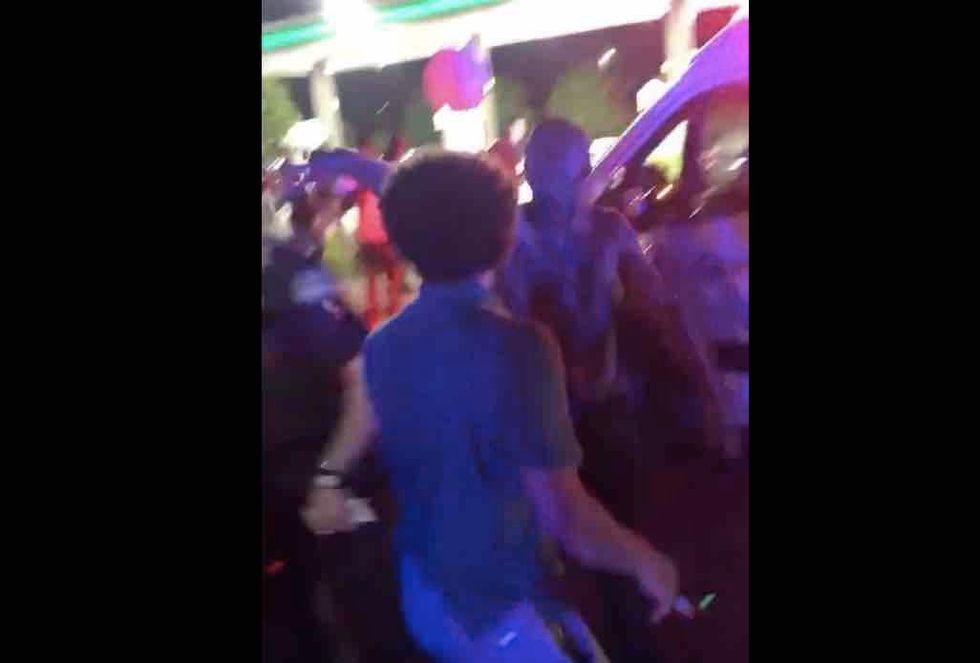 Image source: Twitter video screenshot
Soon a black female officer appears to grab the white officer's arm apparently in an effort to encourage him to leave the scene: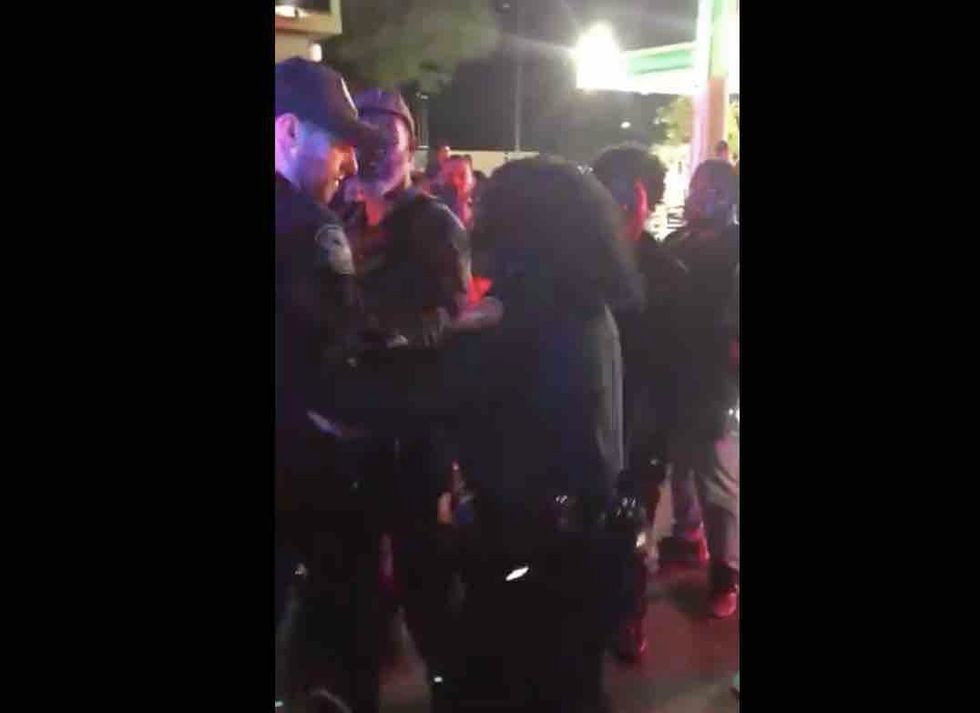 Image source: Twitter video screenshot
Here's a sampling of what was yelled at the officer as he made his way to a patrol car:
"No white cops!"
"Get your white face outta here!"
"I'll knock you the f*** out!"
"Go get you some donuts and get the f*** outta here!"
Others in the crowd appeared to try to help the officer, with some yelling variations of "let him get in the car!"
Here's the clip. (Content warning: Language):
What about the shooting in question?
Other videos allegedly of the shooting in question and its aftermath appear to match the location and time of day of the clip showing the white officer bullied by the mob. (Content warning: Language):
The final clip below shows a black male shoving a black police officer — after which someone notes, "He pushed a cop and got away with it." (Content warning: Language):
Anything else?
Also regard to the shooting in question, an Atlanta police spokesperson told WXIA-TV the victim was shot in the leg and is "alert, conscious, and breathing."
The station, citing a report from Officer Steve Avery, said police were dispatched to the 100 block of University Avenue at about 10:45 p.m. after receiving reports of a person shot.
Investigators found 24-year-old Mahima Dhesi who told them she was at a vigil or protest in the area and a bald black male appeared to be randomly shooting when she was hit in the leg, WXIA said.
Avery said the victim was reported in stable condition, the station said, adding that a witness told police a white male and female drove up and started shooting at the crowd.