After a white bar owner fatally shot a black man who jumped him amid violent protests Saturday in Omaha, Nebraska, Douglas County Attorney Don Kleine looked at video evidence and concluded Jake Gardner, 38, acted in self-defense, the Omaha World-Herald reported.
On Monday, Kleine said Gardner wouldn't be charged in the death of 22-year-old James Scurlock and that a grand jury wasn't needed, the paper said.
But two days later Kleine said he'd ask for a grand jury investigation after all, KETV-TV reported.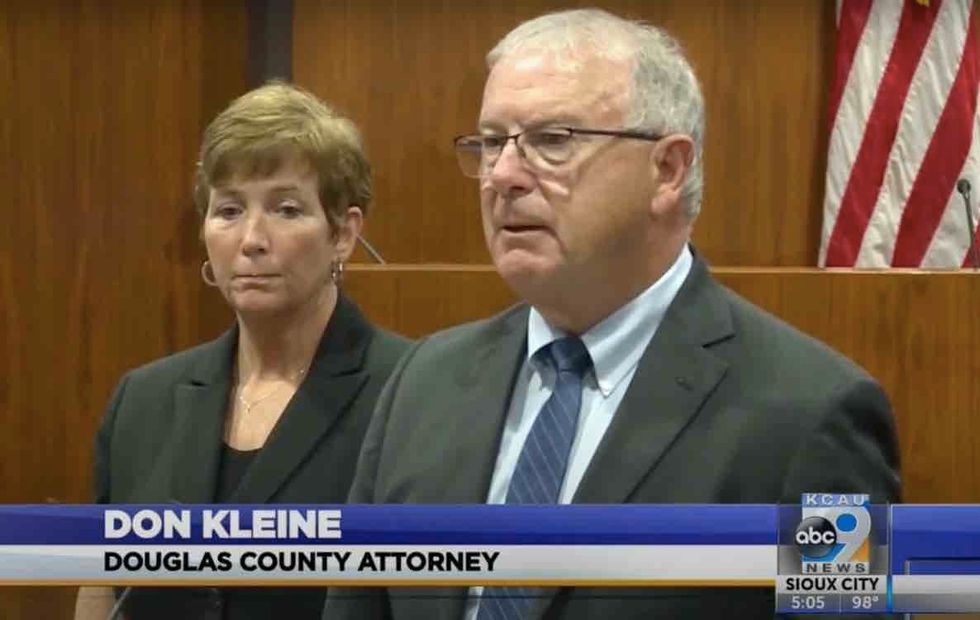 Image source: YouTube screenshot
"We've reviewed the available evidence and made our decision based on the evidence and the law," Kleine said, according to the station. "I made a decision, and I would not change that decision based on anything we know today. … However, I'm not afraid of having a decision that I've made reviewed by others."
What changed?
Kleine noted he met with community members who said he should call a grand jury to investigate Scurlock's death, KETV said, adding that Kleine said "I welcome and support" the move "in this rare instance."
The DA added to the station that he'll also petition for a special prosecutor and that "these times are unique" — presumably a reference to racially charged protests and rioting across America in the wake of the death of George Floyd, a black man, in the hands of Minneapolis police last week.
Douglas County Commissioner Chris Rodgers and City Councilman Ben Gray met with Kleine Tuesday, the station said, adding that Rogers said the trio "talked about what are the full possibilities that would restore faith in the system."
Rodgers added to KETV that they also want the issue of racial inequality addressed and solved in the community.
Scurlock's family also was disappointed by Kleine's decision to not press charges against Gardner and petitioned the DA to let a grand jury make a decision, the World-Herald noted.
What's the background?
The paper said surveillance video from Gardner's bars played at a Monday news conference showed a group of young people, including Scurlock, approaching Gardner.
More from the World-Herald:
Walking backward, Gardner lifts his shirt to show a handgun, then pulls it to his side and continues backing up. Two people from Scurlock's group — a man and a woman — tackle Gardner, who ends up on his back in a puddle in the street.

He fires twice into the air — he characterized them as warning shots in an interview with Omaha police. The two people run away from him.

Four seconds after that, Scurlock rushes from the sidewalk and dives on Gardner. Kleine said Scurlock was on Gardner's back and had his arm around the bar owner's neck. Gardner could be heard on another bystander's video hollering, "Get off me, get off me."

His right arm pinned, Kleine said, Gardner switched the gun to his left hand and fired over his shoulder. The bullet hit Scurlock in the shoulder-neck area, killing him.

Under Nebraska law, a person can be justified in killing another if he has a reasonable belief that deadly force is needed to protect himself or others. People are not allowed to use deadly force to protect property.
What else did videos show?
Kleine said he and police officials examined about five videos, the paper reported, and determined a timeline of what took place.
The World-Herald said a video it obtained shows a man identified as Scurlock and a friend vandalizing a business at about 10:15 p.m.
More from the paper:
In it, Scurlock apparently has entered the office through a shattered window. He hoists an office chair and, using both arms, hurls it into two computer monitors, then rips what appears to be a phone from a desk and chucks it against a wall. It penetrates the drywall, lodging there with the phone cord hanging out.

His friend smashes something into another monitor. Scurlock looks around, pulls a mask from his neck up over his face and the two hop out of the business onto the Harney Street sidewalk.
After windows were smashed at this bar, the World-Herald said "Gardner and his father rushed outside, past the bouncer, who was guarding the door. David Gardner, 68, exchanged words with people in Scurlock's group. He didn't push Scurlock but twice pushed someone in Scurlock's group."
Then a man appearing to be the same person who vandalized the business with Scurlock was seen pushing David Gardner to the ground, the paper said, citing a law enforcement official.
Jake Gardner then rushed to his dad and asked what happened to him and told people to move along, the World-Herald noted.
Then Scurlock and another man approached Jake Gardner who was walking backward and lifted his shirt to show a gun in his waistband then pulled it out and held it at his side, the paper said.
Soon an Omaha woman, Alayna Melendez, tackled Gardner from behind, after which Gardner ended up on his back in a puddle in the middle of the street, the World-Herald said. He then fired two shots into the air, the paper added.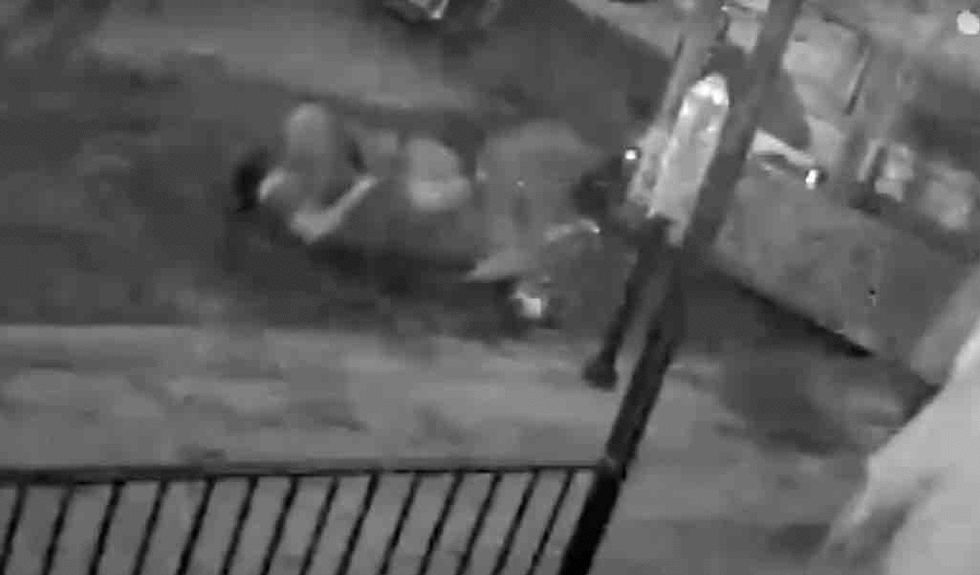 Image source: YouTube video screenshot
Four seconds later Scurlock jumped on Gardner from behind, and authorities said Scurlock was on Gardner's back and placed him either in a headlock or chokehold, the World-Herald reported. Gardner can be heard yelling, "Get off me, get off me," Kleine told the paper.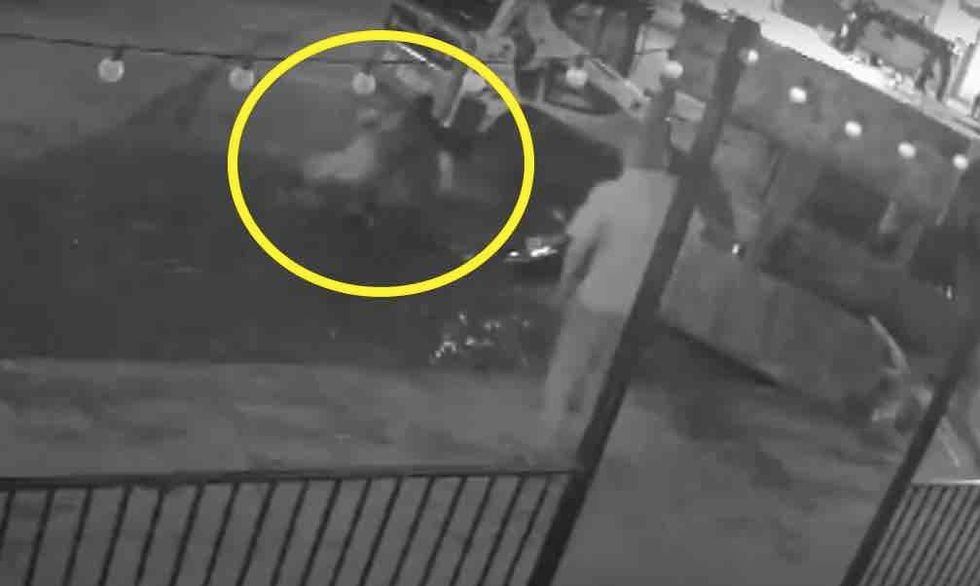 Image source: YouTube video screenshot
Switching his gun to his left hand when his right arm was pinned, Jake Gardner fired over his shoulder, and Scurlock was killed, the World-Herald said.
"There was a consensus that the actions of the shooter were justified," Kleine said, according to the paper. "We certainly wish that none of this would have happened. It's a senseless death."
Here's a report that aired after Kleine said no charges would be filed against Gardner — but before he decided to call a grand jury:
No Charges for Omaha Bar Owner

youtu.be

Jake Gardner was kept in Omaha police custody for questioning, with his attorneys present, the World-Herald said, adding that he was never booked into jail and was released at 11 p.m. Sunday.
Kleine, a Democrat, said he's long fought for justice for black victims
Kleine told the paper he's long fought for justice for black victims.
More from the World-Herald:
A Democrat elected in 2006, 2010, 2014, and 2018, Kleine condemned people on social media for distorting several facts — including Democratic congressional candidate Kara Eastman's portrayal of the killing as "cold-blooded murder." Authorities also disputed online accounts that the elder Gardner had displayed a gun. And a member of Scurlock's group told police that he had not heard anyone utter racial slurs that night.

All that said, Kleine suggested that things easily could have turned out differently. He said he wishes Gardner and his father would have stayed home or behind their bouncer and let the night pass.
"I was hoping and praying to God [Saturday afternoon] that no one would pull out a gun and do something, and it happened," Kleine said, according to the paper. "It saddens me to no end."
Gardner evicted
The owners of the Omaha property in where Gardner's The Hive bar operated have evicted him, the World-Herald said in a separate story.
The property owners told the paper they've been threatened since the fatal shooting and that Gardner's bar no longer would be allowed to open at its space in a building near 12th and Harney streets.
They also told the World-Herald that Gardner hadn't complied with lease terms, that he was late on payments, and that there were "other issues" but declined to provide further details.